Beatrice Tate School ARR System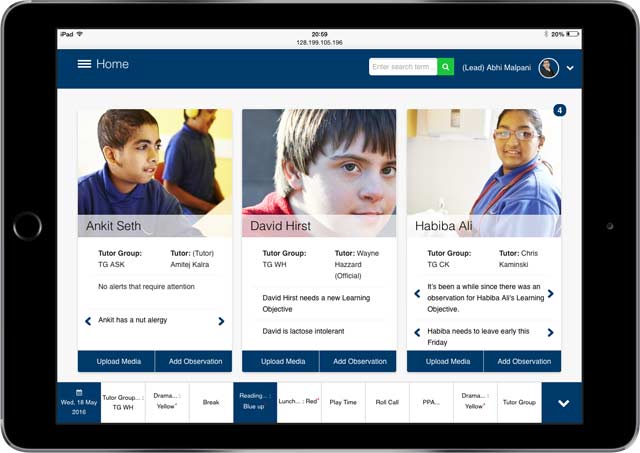 Beatrice Tate, a school for children with profound and multiple learning disabilities, required a system to help track students' progress and create end-of-term reports. After struggling to use off-the-shelf systems, the school asked us to design a system that would suit the school's specialised curriculum and the students' non-linear progress while meeting both a limited budget and an aggressive schedule dictated by the school calendar.

I scoped and planned the project, the lead a team consisting of one senior designer and two interns. I performed contextual inquiry interviews to understand how student progress was currently recorded and tracked, then mapped user motivations to goals and tasks using personas. I then created task flows mapping out key user activities in detail. At the end of the project, I wrote the technical requirements and provided development support and QA for the Bangalore-baed development team.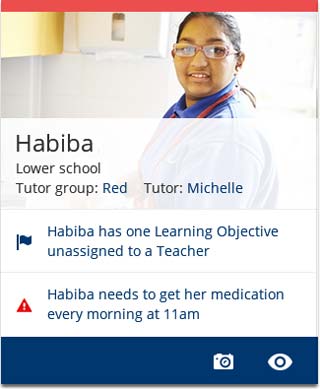 My research revealed faculty members have two roles: as a teacher they record observations on students' progress, while as a tutor they track progress and assemble observations into end-of-term reports. We designed a responsive web-based system that makes recording observations easy, while still offering flexible reporting. Timeline-based navigation presents teachers with the correct students for the class they are currently teaching, and student 'cards' with large photos help teachers to quickly record observations using the built-in camera on their tablet. A multi-axis progress tracker helps teachers and tutors track student progress, and a drag-and-drop interface allows teachers to assemble these observations into bespoke reports for parents, caregivers, and social workers.

The teachers were delighted with the system when it rolled out on schedule in the fall. The observation recording features helped them record better feedback on the students, and the scheduling and reporting features provided substantial time savings over their previous system.
'This has been a productive, enjoyable process. It has helped us to reflect on what we really needed and you have questioned and challenged in a positive way. You have also enhanced our early ambitions through your design process.'

— Mick Whaley, Deputy Head Teacher, Beatrice Tate School
'Just back after ½ term break. We are really pleased with the system…. At some point we may scope out a shopping list and get a quote for ARR version 2!'

— Mick Whaley, Deputy Head Teacher, Beatrice Tate School